It's really that simple.
A vision drawn from my strategic design and marketing experience to establish a full-service offering.
Strategy through to delivery
I provide turn-key creative solutions to a growing client portfolio – able to support businesses across all marketing channels with branding, marketing, and creative solutions.
This saves my client's time and money, and guarantees control, quality and consistency throughout the project.
And what differentiates me is that I can provide your business with brand design and marketing agency-level support without the agency level price tag. It's a key part of my offering that may be of interest to a business like yours.
If the project or challenge calls for it, my trusted collective of talented professionals will provide first-class support and deliver outstanding results.
Effective and efficient
It's a progressive, lean, and agile business model. Without the cumbersome agency structure and associated overheads, it will save you money, and deliver realistic and commercial results.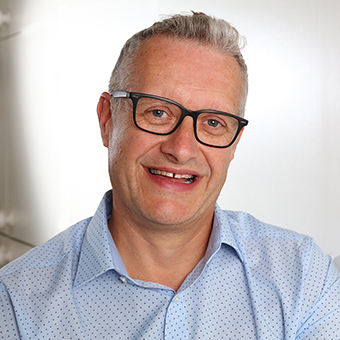 From Swap Shop to Dabbers – it's been quite a journey!
My career started early, and started BIG. A work of art that I drew was picked out by Noel Edmonds and shown live to millions (probably) on the BBC's Multi-Coloured Swap Shop.
There was no social media, and no iPlayer, so I've got no proof. But it did happen (I promise).
A solid start
Fast-forward a few years… studying Graphic Design at University… first job as a Desktop Publishing Operator in an emerging travel business… quickly moving on to senior brand and marketing positions at household names such as Thomas Cook and Gala Bingo.
From 2016 to 2018, I was part of the team leading on the rebrand of Gala Bingo to Buzz Bingo. It was a complex project across a large UK retail estate, including a new online proposition.
New direction
On project completion in late 2018, I founded RJ Brand Design. With a first contract quickly won with Table Tennis England, I haven't stopped since, and continue to support a growing and loyal client list.
But you know what truly excites me? It's engaging with people, delving into their business challenges, and helping them achieve their branding and marketing goals. There's nothing quite like the thrill of seeing a business flourish and knowing I played a part in their success.
So, whether you're looking to revitalise your brand, tackle marketing hurdles, or simply have a chat about the exciting possibilities for your business, I'm here to lend my expertise.
RJ Brand Design are a marketing and brand design agency based in Market Harborough, Leicestershire.
We pride ourselves on our service. And it's our friendly and down-to-earth approach, coupled with an analytic and commercial edge that drives business improvement for our clients.
We've got experience across a broad range of sectors. This includes Retail, Sports, Gambling & Casinos, Engineering, Leisure, Travel & Tourism, Education, Training, IT and Technology, Recruitment, Logistics, and Healthcare.
And we offer businesses a wide range of services across online and offline marketing. This includes graphic design, logo design, brand design, brand analysis, brand survey, offline marketing, digital marketing, creative and marketing services, social media, design for print, advertising, art direction, photoshoots, video and much more.
We regularly facilitate workshops for businesses of all sizes, either face-to-face or by video conferencing. We can cover everything from a brand or creative audit to exploring tone of voice, through to creative team training, and much more.
To find out more about the Services we offer, please click here.
"Robert's stand out strength is that he can produce effective strategic and tactical campaigns to a budget and at break-neck speed. He inspires everyone around him because he always gives it 100%, is driven, fair and great fun. He combines great creative flair with a strong analytical brain; a rare combination and a great team player."
We'd love to hear from you. Send us a message and we'll be back in touch.